What Is Japanese Teppanyaki?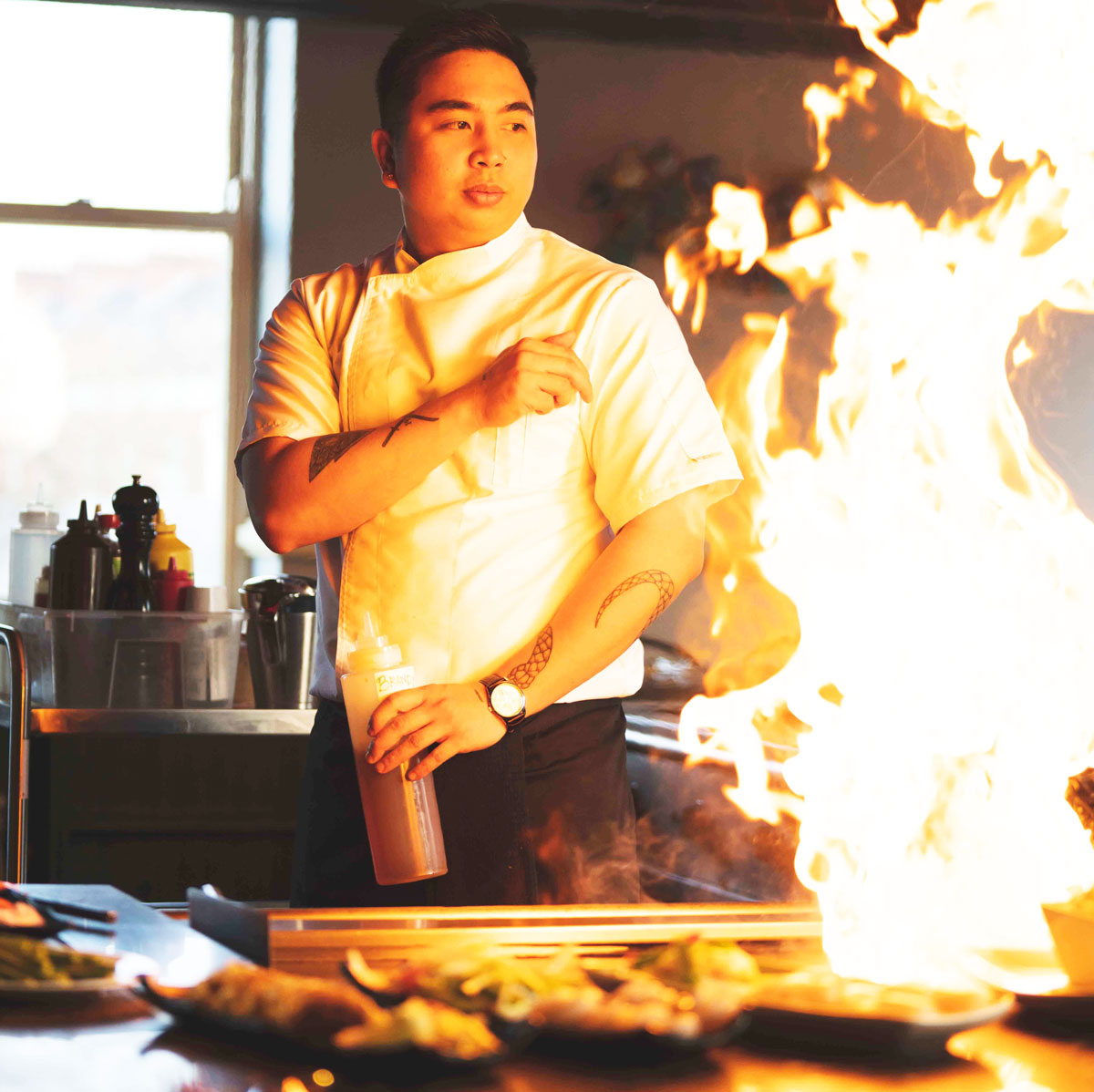 Teppanyaki is a style of Japanese cuisine originally developed in 1940s, that uses an iron griddle to cook food, which is a fast growing art of dining worldwide, especially in the UK.
Its not just a delicious taste of Japan but a whole concept of entertainment. Customers sit around a granite counter topped with a gleaming steel plate whilst the specialist chefs juggle their knives and perform miraculous cutting feats while sauteing a mouth-watering combination of steak, chicken, seafood and vegetables.
Our Gallery
Come Join The Fun at Belfast's Only Teppanyaki Restaurant
Book a Table
We recommend you to make on line reservations at least one week in advance.
Please be aware that you will need to receive a confirmation email confirming that your table is booked.
Need Help?
028 9091 4267
info@3levels.co.uk
Opening Hours
Monday to Thursday 12pm-3pm, 5pm-10.30pm
Friday 12pm-3pm, 5pm-11pm
Saturday 1pm-11pm
Sunday 1pm - 10pm
Need Help?
3 LEVELS - ASIAN FUSION
31 UNIVERSITY RD,
BELFAST, BT7 1NA
My all time favourite restaurant. Delicious food, friendly staffs and chefs. Highly recommended for group of friends and couples!
Chloetew92
Wish I took more pictures! The food was cooked directly in front of us, very enthusiastically! It involved flames and catching food in your mouth that is thrown at you by the chef! The food was very pricy but very much worth the experience. Would definitely recommend the lobster!
Maddy R
Food was amazing. Our chef for the evening was very entertaining. I was so impressed with everything that I have booked the restaurant for a group of friends to experience it next month. Looking forward to returning .
Nichola W
What a wonderful experience to go to this restaurant. Was un sure what to expect but went to 3rd floor for Japenese and wasn't disappointed!! Had the valentines deal was it was fantastic Robert the chef was outstanding and asked great questions checking for food allergies Well worth a visit
Ian M
This is my all time favourite restaurant, food is absolutely amazing , chef is so much fun , love the atmosphere while they cook in front of you , fried rice alone is to die for , you really must try this place out, can't wait to go back again.
Mary B